Why 5052 aluminum circle can be used for reflective sign boards?
5052 aluminum circle with deep drawing quality, good spinning quality, excellent forming and anodizing, no four ears,ect advantages are widely used for reflective sign boards.
5052 aluminum circle belong to 5000 series aluminun circle/aluminium wafer,at the same time including:5005 aluminium circle,5754 aliuminium disk,5083 aluminium discs.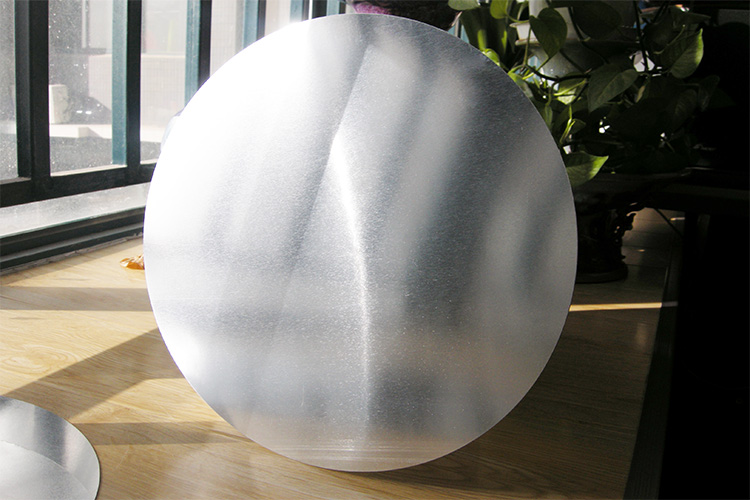 5000 aluminum circle has the common characteristics :
Excellent reflectivity, good for Polishing.
Good anodized quality, suitable for hard anodizing and enameling
Clean surface and smooth edge, hot rolled quality, fine grains and after deep drawing no looper lines
Excellent pearl color anodizing.
Product:Aluminum Circle
Alloy:5052
Temper:O, H12, H14, H18 and H24...
Thickness:0.5mm-6.0mm
Diameter:40mm-1800mm
Lead Time:Within 30 days after receiving deposit
Packing:Standard Exporting wooden pallets
Material
Using high-tech machinery utilizing premium grade Aluminium Coil.
Customized according to the needs and demands of the clients these can
be availed at different technical specifications.
Surface:
Bright & smooth surface, free from defects like white rust, oil patch, edge damage.
Application
Aluminium Circles are used in Reflective Sign Boards, Road Furniture,
Utensils, Sand witch Bottom, Cooker, Non-Stick etc.
Product process of the 5000 series aluminium circle
Prepare the master alloys
Melting furnace :put the alloys into the melting furnance
D.C.cast aluminum ingot:To made the mother ingot
Mill the aluminum ingot:to make the surface and side smooth
Heating furnnace
Hot rolling mill:made the mother coil
Colding rolling mill:the mother coil was rolled as the thickness you want to buy
Punching process:become the size what you want
Annealing furnace:change the temper
Final inspection
Packing:wooden case or wooden pallet
Delivery